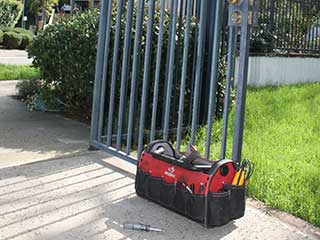 Expert & Reliable Team At Your Service
You want people that you can trust to do solid and sturdy work on your gate and the knowledge that it'll work when you need it to. That's where we come in! After years of providing service to gates in the area for both homes and businesses, you can rest assured that we know exactly what we're doing to provide the finest care. We've seen it all before, which means that we'll get to the bottom of any issue in no time to solve it and leave your door like new again. We'll work hard to ensure that you end the project satisfied and proud of the work we've done! It's why we're considered one of the finest companies in California.
High-Quality & Fast Work
As much as you want service that will keep your gate in good shape for a long time, you also don't want to delay your busy schedule waiting on repairs! We're happy to provide the best of both with excellent service that will be done on time - in no time! Thanks to using the finest equipment and parts as well as our thorough experience, we'll be able to determine the best and quickest solution and get it taken care of for you.
Opener Service, Installation, & More
Openers are certainly important with automatic gates, but may wear out over time if there's a lot of coming and going. We can help by providing repairs for the opener itself, as well as any issues with the photo-eye sensor or sensors overall. If a new opener is needed, we can get it installed for you easily! Our experts would be happy to install a new gate altogether for you, including wrought iron or custom-made styles. We can also repair intercoms, hinges, tracks, sensors, replace parts, and much more! Whatever your gate needs, we can handle it.
Contact Our Team Now:

Years of Knowledge and Experience

Excellent Parts and Equipment

Service You Can Rely On

The Fairest Prices Around