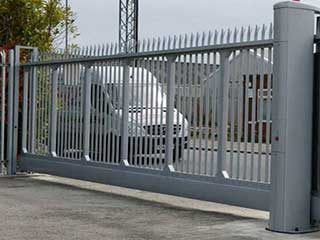 If the automatic gate to your premises stops working, it's a major problem. A malfunctioning system prevents deliveries and employees from entering and leaving properly, causing a massive impact on your day-to-day activities. Not only that, but the gate is an important part of your business's security system, and any problems with it can potentially allow unauthorized personnel in, or prevent employees and customers from entering.
Different Types Of Problems
There are many different things that can go wrong with these complicated systems. Swing gates can suffer from damaged and cracked hinges, and may require welding repair if they're made of wrought iron, for example. Sliding gates may suffer from blocked or dented tracks, which can hinder their movement and may cause them to get stuck. All automatic gate systems rely on an electric opener too, which can sometimes suffer issues of its own. The motor gears can break or wear out, rendering the unit nearly useless. Electrical issues can also affect your motor unit, and sometimes even the main circuit board can require replacement. Our technicians can handle all this and more, and always carry a full range of replacement parts to every job, to ensure they can easily replace damaged components without keeping you waiting.
Resolving Malfunctioning Intercom Systems
Even if your gate functions properly, it's not much use without a reliable intercom. Letting the right people in at the right time is only possible with a functional phone entry system, and any glitches can compromise the security of your property, and the convenience of those on the other side. Whether you just need some rewiring work done or to have a completely new intercom system installed, our technicians can help.
Don't Wait – Call Today
Our team offers same-day repair services for urgent problems, and is ready to help you any day of the week, including Saturday and Sunday. Get in touch with Gate Repair El Cajon today to schedule a service appointment.