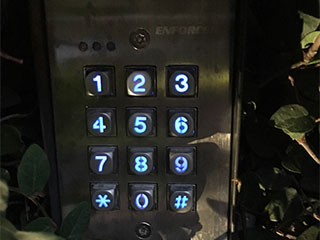 Most automatic gates include an intercom system that lets you talk to visitors before remotely letting them in. This system makes home security much easier and more convenient, as long as it is properly installed and in good repair. When things go wrong, it can present some obstacles.
Old And New Models
The oldest intercom systems are basically just a pair of microphone/speakers connected by a cable. Since then, wireless phone entry systems have become gradually cheaper and more accessible, and some models have come to also include video conversation, motion sensors, and networking/smartphone control features. Price is only one of many factors that you should consider if you're having a new gate intercom system put in.
The Right Model For The Job
If your automatic gate is far away from the building, a wireless intercom may not have enough range; you'll need a wired system (though if it's too far a wire can have problems of its own!). Meanwhile, if your building has trouble with signal reception, wireless models may not do a good job, and wired connections will be the only option. For most home and business owners though, a wireless gate intercom system is the most convenient and least likely to break down.
Fixing The Problems
Any device that's left sitting outside will be vulnerable to clogging or damage from dust and moisture; the better protected your intercom is from the elements, the less likely problems will arise. However, accidents can still happen. Of course, someone trying to break into your property is likely to damage the gate and its subsystems deliberately, and if you use a wired system the connecting cables are often vulnerable.
Our Team Is Available
Whether you need your intercom system repaired, or an entirely new one set up and integrated with your gate's controls, our team is here to help. Give Gate Repair El Cajon a call today to set up a service appointment!