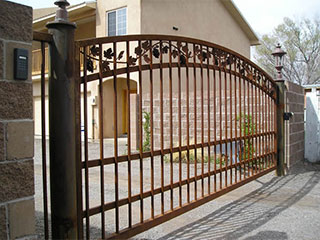 If you are a home or business owner residing or working in El Cajon, you've probably noticed that many of your neighbors have automatic gates around their properties. Having this type of system can add to the value of your home and improve its visual look and increase its curb appeal. There are all sorts of different types and materials to choose from when you're having a new gate installed. Here are some of the most common ones:
Wrought Iron Gates
The ornate beauty of wrought iron frames is a very known thing. They can add an element of luxury and prestige to any property. This type of ornamental decor has become synonymous with class and a certain style factor whether used to create a driveway gate or fences. The ironwork can be very heavy and will require a powerful electric opener to move, whether for a swing or sliding system. The new gate installation may take a bit longer to complete.
Wood Pickets and Panels
Wooden gates offer a unique look to a property and, depending on the type of timber used and its quality, can be less or more expensive than their iron counterparts. Redwood is very strong and sturdy and seems to be the most durable of all wood types used for driveway gates. It can be used for pretty much any type of mechanism and can be used to construct swinging doors or to be used for a sliding gate that uses rollers to open. The main downside of wood is its tendency to rot and warp, which makes the material have higher maintenance requirements. Regular repainting will be necessary.
Strong and Durable Steel
Steel gates can come in an array of styles and designs. You can achieve that same sort of classy look with the steel version as you can with wrought iron, especially if you have a faux or real wood exterior panels. Steel is very durable and will be able to resist a lot of physical damage. However, it can rust and will need to be inspected and treated accordingly.
The Swinging Gate Option
Not only will you have to choose the material that your new gate will be made of, you will also need to choose how the mechanism will move. The swinging style (similar to an old west saloon door) is very popular but it does have some drawbacks. When a swing gate is opening and closing, it needs to have a certain amount of space available for it to move, and if its safety features are malfunctioning then it can hit a waiting car.
The Sliding Version
These types of systems are a little safer than the swinging models. They use rollers/wheels to facilitate their movement and open and close laterally, which means they can have a lower moving space requirement. A sliding gate can be an excellent choice for many different properties, and its relatively simpler action means it is somewhat less likely to break down.