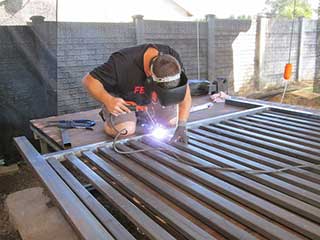 Your automatic driveway gate has several different purposes, from ensuring your property's security to improving its curb appeal. However, when something goes wrong with it, it can be very disruptive, and potentially even dangerous too. When faced with a scenario in which your driveway gate isn't opening, closing or just behaving erratically, know that you can always count on us for assistance.
Physical Damage Restoration
Whether your driveway gate is made of wood, steel or wrought iron, when its hardware gets damaged, the required repairs probably won't be easy. Wrought iron could need welding, and wood, which can rot, may need to be replaced or some carpentry work. Whatever the case may be, count on us to get your system looking great again in very little time.
The Gate Got Stuck
This sort of problem can have multiple causes, all occurring separately or simultaneously. The hinges of a swing gate can require replacement, and the track or wheels of a sliding-system can become bent and will need to be straightened in order for the mechanism to resume its operation. Trying to force the system to work when something is clearly hindering its movement can lead to gate misalignment, which is definitely something you'll want to avoid.
The Intercom Isn't Working
Needless to say, being able to communicate with people on the other side of your driveway gate is very important, especially as a security feature. That's why it's important to ensure that it's fully functional at all times. When it fails, you need to get it fixed ASAP, so as not to compromise your property's security. A wired system can be more susceptible to external problems, but both a wireless gate intercom and a wired one can experience circuitry issues and other malfunctions. Leave it to our experts to troubleshoot the system, locate and solve the problem, whatever it may be.
Get In Touch With Us Today
Need some help dealing with an automatic gate problem? Why wait? You can simply contact Gate Repair El Cajon and our technicians will be there to help you on the same day you call.
We also offer the following:
Parking Garage Gates
Doorking Gate Opener
Aiphone Gate Intercoms
Swing Gate Safety Loops Sensors